Welcome to guitar feeds - guitar news - guitar reviews - some of the webs most popular guitar feeds syndicated in one place. Guitar video clips from ordinary and celebrity guitarists - RSS feeds XML feeds - get your guitar feed added now
1966 Goya Electric Guitars catalogue
Goya was well-known for it's acoustic guitars, produced by Levin in Sweden; but in the mid 1960s they added a number of Italian-built electric guitars and basses. Semi-acoustic models such as the 105, 107 and 109 Rangemaster guitars and Panther II bass were made by Polverini, whilst solid body models 116 and 118 were made by Galanti. These were well-built good quality instruments, but perhaps too expensive to sell in large numbers.

More of this feed here
Live Wire: Music on Television April 9-15
Just because MTV doesn't play music anymore doesn't mean there's not tons of live music on television these days. Consider our weekly feature "Live Wire," your guide to performances, concerts and rock star appearances on the tube. All times are ET.

More of this feed here
1972 Gibson EB0L

A very unusual long scale 1972 Gibson EB0L practically all Gibson EB-0 bass guitars had a mahogany body with a translucent Cherry or Walnut finish. This bass has an alder body with natural finish, and somewhat different hardware, with more in common with an Gibson SB-450, rather than a typical seventies EB bass. Despite being built in 1972, this bass was most likely one of just 5 natural EB-0 basses shipped in 1973, according to the EB-O shipping stats.

More of this feed here
More of this feed here
Fender Vibro Champ
Blackface Fender Vibro-Champ 1967. They say that 'good things come in small packages' and this small Fender combo is no exception to that saying and is a particular sonic favourite here at JGG, with its ability to go from 'sparkling' F

More of this feed here
More of this feed here
Gibson Custom Billy F. Gibbons Goldtop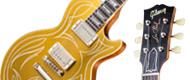 The first ground-up revision of Gibson's stunning original solidbody electric in over 60 years is a masterpiece of style. In addition to its luscious goldtop finish, it ...

More of this feed here