Welcome to guitar feeds - guitar news - guitar reviews - some of the webs most popular guitar feeds syndicated in one place. Guitar video clips from ordinary and celebrity guitarists - RSS feeds XML feeds - get your guitar feed added now
1963 Vox Symphonic bass guitar
The Symphonic bass was one of the models produced by JMI in the UK, primarily for the early sixties British market. It was comparatively high priced, still cheaper in the UK than the Fender Precision that it was emulating, but not by much, and actually more expensive in the USA. It only sold in small numbers in Britain and barely at all overseas. No equivalent model was produced in Italy, and although it remained in UK price lists as late as 1967, it is unlikely many instruments were shipped beyond 1965.

More of this feed here
Live Wire: Music on Television April 9-15
Just because MTV doesn't play music anymore doesn't mean there's not tons of live music on television these days. Consider our weekly feature "Live Wire," your guide to performances, concerts and rock star appearances on the tube. All times are ET.

More of this feed here
1972 Gibson EB0L

A very unusual long scale 1972 Gibson EB0L practically all Gibson EB-0 bass guitars had a mahogany body with a translucent Cherry or Walnut finish. This bass has an alder body with natural finish, and somewhat different hardware, with more in common with an Gibson SB-450, rather than a typical seventies EB bass. Despite being built in 1972, this bass was most likely one of just 5 natural EB-0 basses shipped in 1973, according to the EB-O shipping stats.

More of this feed here
Introduction To Goregrind And Pornogore [Columns]
Genres' Battles: Ever wondered how the hell can someone enjoy a whole album of low chugging riffs that stretch from first to third fret, fuzzy bass with more fuzz than bass, drums that sound like cans and a lower-than-bass vocal that sounds like an evil dying pig? Well, read on my ignorant brother for you might be enlightened!

Andres Segovia: Guitar Institutionalization [Columns]
Artists' Discussions: This was a paper I had to write for a History of Music Education class. As a guitarist, I chose to write on Andres Segovia, a profound classical guitarist whose actions, I believe, aided the guitar into the school system.

Drastically Cut Learning Time With Intervals [Columns]
Music Theory: Many are unaware of the huge simplification that a mastery of intervals offers, not to mention they are critical to controlling the emotional content of music. Here we start looking at these benefits. They can cut your learning time to at least 1/12th compared to using pitch names or tab.

6 Reasons Why Stevie Ray Vaughan Needs To Be Inducted Into Rock Hall [Columns]
Artists' Discussions: Give the blues rock master some love!

More of this feed here
More of this feed here
More of this feed here
ES-335 Lemon Burst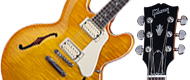 The ES-335 Lemon Burst from Gibson Memphis is a guitar that reclaims a slice of lusciously faded elegance for the legendary semi-acoustic, while retaining all of the key ingredients of a ...

More of this feed here