Welcome to guitar feeds - guitar news - guitar reviews - some of the webs most popular guitar feeds syndicated in one place. Guitar video clips from ordinary and celebrity guitarists - RSS feeds XML feeds - get your guitar feed added now
1965 Harmony guitar catalogue
Original vintage catalogue scan. Harmony produced regular full-colour catalogues throughout the 1960s, but because these catalogues were released pretty much annually, there were only incremental changes from year to year, sometimes the only differences were the prices listed within. 1965 was an absolute boom time for American guitar manufacture, and this catalogue includes most of the best-known Harmony models: Rocket, Meteor, Silhouette, H75/H76/H77/H78, but it is the last publicity for the Stratotone guitars which were phased out later that year.

More of this feed here
Live Wire: Music on Television April 9-15
Just because MTV doesn't play music anymore doesn't mean there's not tons of live music on television these days. Consider our weekly feature "Live Wire," your guide to performances, concerts and rock star appearances on the tube. All times are ET.

More of this feed here
1964 Gibson EB0
The EB series evolved throughout the period of production, with (mostly) minor hardware and construction changes occurring every couple years. 1964 basses are typified by their mix of early features: wide, but slightly shallower neck, non-intonatable bridge, 'small' control cavity cover and nickel-plated hardware; most obviously the pickup cover (previously black bakelite - compare with a 1962 EB0, later chrome-plated - see this 1966 EB0)

More of this feed here
More of this feed here
More of this feed here
More of this feed here
Gibson USA Les Paul Supreme Florentine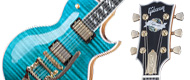 Classic Les Paul lines are upgraded with a sharp Florentine cutaway that mirrors the legendary Gibson archtops, while the weight-relieved mahogany body ...

More of this feed here